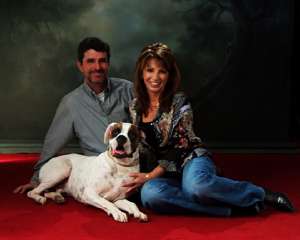 Meet George….a white boxer that was a discarded pet. George was adopted by me and my husband Wheeler. He weighed 42 pounds at the time of his rescue and had contracted mange. George has been a great addition to our family. He now weighs 90 pounds and has a beautiful white coat. George had been abused and he is very shy around new people...but everyday is a new challenge and we just give him all the love and care he needs.
Remember...adoption is an option!
Friends of Guthrie Animal Shelter aids many unwanted and discarded pets that find their way to the Guthrie Animal Shelter. It is our mission to find placement and medical care for those animals. Through community support...we are making a difference and saving lives. Please be sure to have your pet spayed/neuter...and help us keep the unwanted pet population down.